Once you've decided to hold an event, the first question is "where"? Over the years, our Heroic Productions crews have worked in virtually every event venue in Minneapolis. When it comes to creating a memorable event, having the right venue can make a huge difference.
Your event venue will affect what you are able to do from an event staging and production standpoint, but it will also affect other things like attendee access, load-in time, and production costs.
So naturally, some of these locations stand out above the crowd, each for its own reasons — so here are a few of Heroic's picks for the best event venues in the Twin Cities.

This venue is a favorite with meeting planners because it has the largest ballroom of any hotel in downtown, holding as many as 1500 people. Plus, you can keep attendees all within one facility for both meeting and sleeping if overnight stays are part of the equation.
Our Heroic team also likes the spacious size of the ballroom. On the creative side, we are free to use the entire ballroom, depending on the expected attendee count. On the functional side, we usually have plenty of space for projection and storage, especially since the ballroom was remodeled and the chandeliers are no longer a tricky projection obstacle. The new fixtures are higher in the ceiling and have a much lower profile.
With that, we can do much more with scenics – painting the ceiling with light using gobos or patterns, for example. The results are more effective and easier to produce. Another big plus is that the remodel established well-thought-out rigging points within the ballroom. That makes it easier for us to design and plan while saving precious time during set-up. Yet another plus for us (and other vendors) is the efficient loading docks — saving time and labor on load-in and load-out helps event planners, too, by reducing costs.
Style: Classic, Elegant
Capacity: Up to 1500
Pros:
Large, customizable space
Well-planned rigging points
Efficient loading docks
Easy hotel access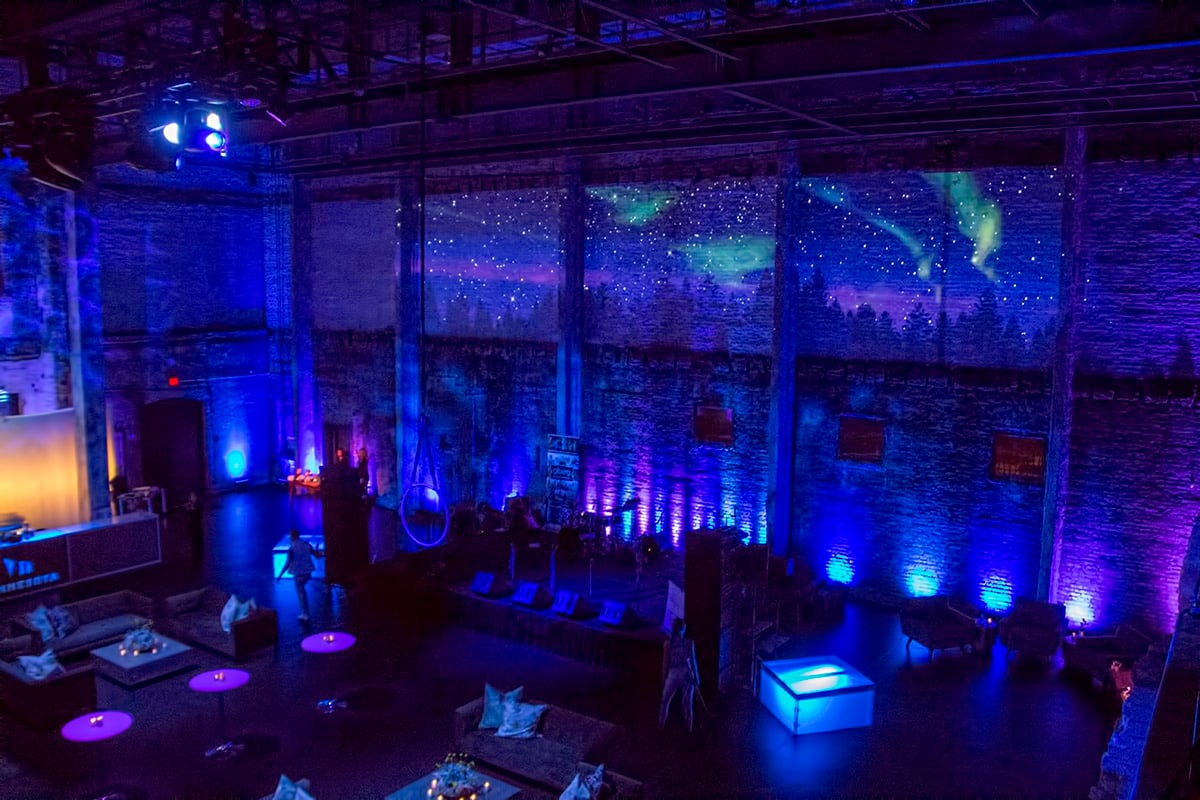 In terms of atmosphere, you might say that Aria is the antithesis of the Hilton's ballroom. Whereas the Hilton offers high-end fit and finish, Aria is au naturel. The venue's exposed brick, big beams and overall weathered look are truly authentic, dating back to horse and buggy days in the Twin Cities. The look is a perfect foil for both casual and elegant event set-ups. It also offers some fantastic lighting opportunities. The walls take light well, which enhances the grittiness of the surface, or you can leave them as they are.
Aria is much more intimate than the Hilton, too, with a capacity of around 300-400. But it offers its own brand of sass. One of the events our Heroic team produced there was part of the Super Bowl celebration. We were asked to transform the space into "northern Minnesota," so of course, we painted the walls with our famous northern lights. It was stunning. Another event we worked there was for the X Games, so it had an entirely different flavor. A number of local organizations have used Aria to host costume parties.
All that eclectic design opportunity does come with a price, however. From an AV production standpoint, we have to keep in mind that the ceiling has a definite weight limit, which affects rigging options. And load-in is a convoluted process, with the alleys, etc. After all, the place is more than 100 years old.
Style: Industrial, Urban, Eclectic
Capacity: 300-400 Attendees
Pros:
Historic, interesting venue
Great from dramatic lighting and stylizing
Cons:
More limited rigging options
The loading dock is not optimal
See some videos from the Super Bowl Committee Party
and the X Games event here.

Sometimes the only way to go is big. Really big. And when your event will be huge (or you need numerous breakout spaces, etc. the Convention Center is there for you. Everything about the place is designed for maximum efficiency at maximum capacity. There are 50 loading docks – heavenly from our point of view – so it's easy to get in and out. And since it is a union house, their crews do all the loading/unloading and moving for us (and you). Inside, there is never a shortage of electricity (another key consideration for AV). And the staff consists of the highest level professionals.
Of course, you can also hold smaller events at the Convention Center, using just some of their space, so the facility is also a boon during busy event seasons, enabling multiple events to go on at the same time.
Style: Professional
Capacity: Up to 6,000
Pros:
Plenty of space for meetings, breakouts, and main stage features
High capacity venue
LOTS of loading docks
Considerations

Many cities around the country have done an outstanding job of preserving their historic and enduringly handsome train stations. Minneapolis is no exception, and The Depot has become a must-see as well as a must-book for event planners.
The recent remodel accentuated the stunning architecture, and there are now multiple event spaces, so you can feel comfortable with both large and small groups. Even a 900-person event can function smoothly, using the lobby for pre-function and cocktails and then moving down the ramp to the "shed" for dinner and program.
Since The Depot is tied to the Renaissance Hotel, sleeping rooms and parking are easily accessible. We do wish they had put in loading docks. But for event planners and guests, The Depot is pretty cool.
Style: Industrial, Historic
Capacity: Up to 900
Pros:
Unique, interesting historic Minneapolis space
Lots of options for pre-function events
Cons:
See some video from our work at The Depot for
ILEA's 2019 MN Star Awards, here.

One of the biggest challenges AV crews typically face is acoustics. Venues that are ideal in other ways for events can be problematic when it comes to ensuring sound is crisp and audible in exactly the same way to everyone in attendance. But not the Bell Museum's planetarium. It is, quite simply, acoustically perfect for listening, mixing and performing.
That makes it an exceptional venue for small music concerts, a CD release party, etc. And the lobby works nicely for receptions. Not only that, but the space is also unique in character, offering a non-traditional but highly engaging atmosphere for all sorts of gatherings. All those rounded and textured surfaces invite painting and washing with light.
Style: Unique, Engaging
Capacity: Up to 600
Pros:
Great acoustics and lighting options
Engaging atmosphere
Room for every event expression
Your event venue has to be the right size, with the right configuration options, and (hopefully) it should be conveniently located, for vendors as well as attendees. But, let's face it – what you really want is a place that brings something else to the table. Cachet.
Minneapolis has it all. From mammoth to intimate, fun and funky to elegant and sophisticated, there is a notable venue just waiting to give your event that special something. And our Heroic team? It's our job to help you transform the space you choose into an environment that tells the story you want to unfold.