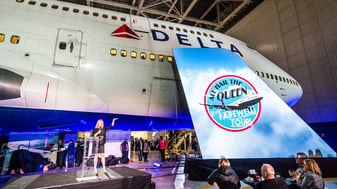 Thanks to evolving technology, you can host an event that attracts audience members who aren't even onsite. Virtual events and hybrids that serve both in-person and remote attendees are a hot commodity these days, and growing fast in popularity. Why not? Everybody's a winner. If you do it right.
Hybrid and virtual events allow you and your sponsors to deliver your messages to more people — perhaps worldwide — and generate more revenue, if that's one of your goals.
But it takes more than "broadcasting" to host these events. In fact, it can be tricky. So we've pulled together a roundup of tips to help you host an event everyone will be glad they attended.
Include Two Emcees
Those with the most experience recommend you use two emcees — one live and one dedicated to your remote audience. That helps keep things moving and facilitates actual participation among offsite attendees. That said, deliberately give a shout out to virtual audience members and thank them for joining the action.
Define Your Needs
Choose a provider who has the capacity to bring your vision to life and reach the audience you have in mind no matter where they are. To do that, you'll need to clearly define your needs. Will you need an e-commerce component? Video conferencing?
Consider not only how you will distribute content outward but how you will bring remote audience members into the conversation with Q&A sessions, surveys, etc.
Identify Necessary Technology
Technology drives success when it comes to hybrid and virtual events. Whatever you use should match the interests and tech-savviness of your audience. Webcast/streaming technology must integrate seamlessly with common web browsers such as Google Chrome, Firefox, Microsoft Edge, and Safari as well as every type of device participants may be using.
Schedule Activities
Make sure you have content scheduled to provide a steady stream of interaction. It's easy to keep your live audience engaged during breaks, but dead air, as they say, is deadly. Speaking of which, make sure speakers and live audience participants are all mic'd, so those joining remotely won't miss a word.
Offer Incentives to In-Person Attendees
All that aside, reward those who attend in person. It's easy to get so excited about including people from somewhere else that you lose sight of your primary mission, boosting live attendance. Yes, you, your presenters, and your sponsors can connect with and benefit from remote audiences, but you can connect more strongly and intimately face to face. And person-to-person networking is a key reason people attend events. Promoting the benefits of being there and offering incentives keeps people from simply electing to stay home and check in passively from there.
On the other hand, give your web-based audience an excellent experience and they'll attend in person next time around to take full advantage of the "real thing." There's no greater review than that.
A well-planned hybrid or virtual event will leave attendees talking — to their family, friends, and social media followers — about your stellar event. Then, when the time comes to host another event, you're likely to have more attendees. It's a win-win.
Photo Credit: Robert Evans